In the Kitchen with Gooseberry Patch - Time to VOTE!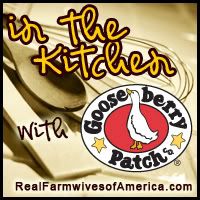 When I'm cooking and cleaning, I love to crank the music up on our stereo and jam seriously jam. And I'm about to crank the musica on high as I join the
Real Farmwives of America and Friends and Gooseberry Patch in the Kitchen.
Sometimes I'm in the mood for this ...
While other times, I like this ...
Or maybe something produced a bit more recently ... love this one!
Now that I've decided on some music, can you help me decide what new cookbook I'll be cooking from in this fun project with Gooseberry Patch and The Real Farmwives of America?!
Click
here
to read more about the project with
Gooseberry Patch
where my realfarmwife friends and I will cook a total of 180 recipes. And guess what? It's my turn - so
GO VOTE
for which cookbook you want ME to cook 10 recipes from. And at the end of 3 months, I will be giving away a copy of the very same cookbook to one very lucky reader! So choose wisely! Voting ends on Monday, May 23!