Love for Leontien!
We sent men to the moon in 1969, we've got computers about the size of post-its and we can even make biodiesel out of algae, but we still don't have a cure for cancer.
Well you know what, screw cancer, screw cancer for taking lives too soon, causing heartache and pain and for just being plain difficult.
Whatever it takes WE WILL FIND A CURE, cancer ... so you might as well give up. In fact, I've got a friend, she's a dairy gal too, who is about ready to KICK YOUR BUTT (again), cancer!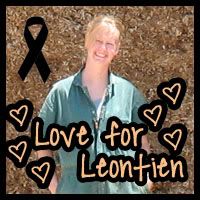 Today is Leontien's day. She needs your prayers and all the lovin' and support we can send her way. The Real Farmwives of America have created a Facebook page called "Love for Leontien" so please "like" her page - give her any encouragement you can. I bet you know someone who has battled cancer and won - I know I do.
And Leontien - I want nothing else but for you to join that group of survivors by kicking the crap out of cancer!
I'm sending some big time prayers up to Him, Miss Leontien for you today and everyday until I know you're Ok. Here are some passages that I hope give you some extra strength as you battle forward and take comfort in knowing that you are not alone.
Even though I walk through the darkest valley, I will fear no evil, for you are with me; your rod and your staff, they comfort me.
-
Psalm 23:4
Be strong and courageous. Do not be afraid or terrified because of them, for the LORD your God goes with you; he will never leave you nor forsake you.
-Deuteronomy 31:6